Students walk-out together in protest of larger classes, online credits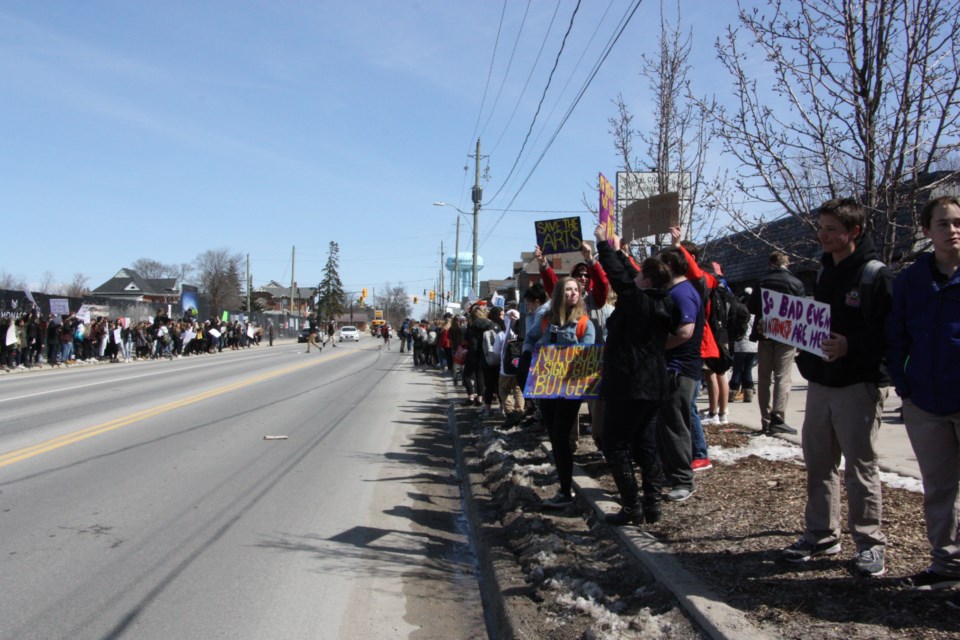 Several hundred students left class this afternoon for a walk-out from their schools to MPP Jim Wilson's office on Hume Street to protest changes being made to Ontario's education system by Premier Doug Ford and his government.
The crowd of students chanted "no cuts," and carried signs with messages like "stop cutting our future," "leave my education alone," and "expand my mind, not my debts."
MPP Jim Wilson's office was closed this week, but students used the parking lot as a staging area for the protest, lining both sides of Hume Street for about an hour on Thursday afternoon.
Michael Gyles, a Grade 9 student at Collingwood Collegiate Institute, said he was inspired to walk out because of the proposed cuts to arts and special education.
"Some of the people in the special education class don't have an equal opportunity for learning as us, so they need their own special classes," said Gyles.
The one change Gyles does support is larger classes, which he said would help prepare them for university, though he doesn't support job losses associated with large class sizes.
Elora Folz, a Grade 12 student at CCI, said the proposed online courses were "unsettling."
"There's more than one way to learn," said Folz. "And that format of learning doesn't work for everyone and I don't understand how we can be set up for success if the platforms we're learning on are not made for success."
Though Folz graduates this year and won't see the impact of changes to the high school system personally, she has three younger siblings going into high school soon.
"I think it's valuable for everyone to have access and opportunity the way I did."
Sam McDonald is a Grade 12 student at CCI, and said he doesn't like any of the changes proposed by the Ford government.
"Just because it won't affect me, doesn't mean it's not a big deal. I think education is important for everyone," said McDonald. "The main thing that made me come out was the cuts to OSAP. Those are totally going to affect me … It's definitely a step backwards in terms of a good education."
McDonald would like to see a roll-back on the cuts.
"I hope that he heard our voice today and I hope that he does something about it," said McDonald.
Gyles helped organize the walk-out for CCI, and said he was impressed with the turnout. He was glad to see a big response from multiple schools.
Stephen Meininger, Ethan Wilson, and Justin Jalsevac are all Grade 11 students at Jean Vanier Catholic High School. They brought a sign saying "Save Mr. Wakewich." All three had Mr. Wakewich for a math teacher last year. He's a new teacher at Vanier.
"At Vanier, we have the best teachers around, we don't want anyone to go," said Wilson.
"I would have failed last year without him," said Jalsevac.
"We feel it's unfair to teachers with lower seniority compared to other teachers," said Meininger, adding he's also not a fan of mandatory online classes and larger class size. "Online schooling and bigger classes, we really don't see any benefit to any of it."
There were also elementary students at the protest from St. Mary's, Cameron Public School, and some from Mountain View Elementary School.
A group of students from St. Mary's school who didn't want to be named said they read about the changes on their Instagram news feeds.
They said they didn't want to do any online classes because they preferred learning from a teacher in-person and didn't like the thought of more screen time. They also had concerns about increased class sizes once they get to high school.
The details of the Ford governments planned changes to Ontario's education system were announced on March 15 by education minister Lisa Thompson.
Among the changes is increased class sizes (from 22 to 28) for high school and mandatory e-learning requiring each high school student to earn one online credit per year.
The Ontario Secondary School Teachers' Federation District 17, representing educators in Simcoe County predicts the changes will mean 200 high-school teachers losing their jobs over the next four years.
Simcoe-North MPP Jill Dunlop told CollingwoodToday's sister site OrilliaMatters the Ministry of Education "launched the largest education consultation in the history of this province."
She said "72,000 students, parents, teachers, and interested citizens utilized this open forum to make their voices properly heard."
She said parents and students can weigh in online until May 31.
["source=collingwoodtoday"]